Stop Being Overwhelmed


& Regain Control
Start managing your time,
not just your tasks.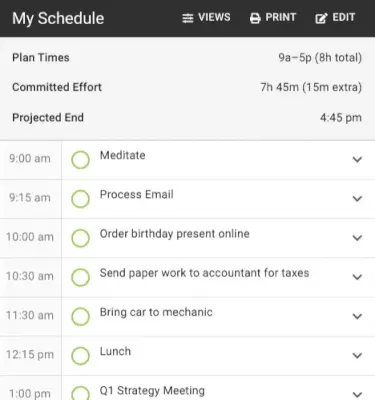 Stop Being Overwhelmed & Regain Control
Start managing your time,
not just your tasks.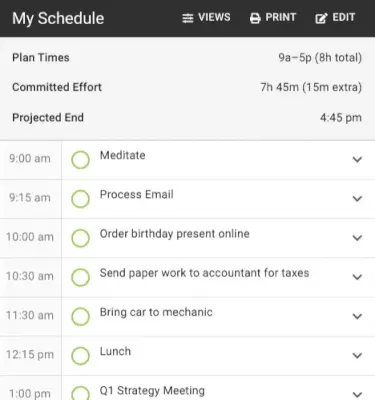 Are you an accomplishment‑driven entrepreneur who struggles to get the right things done on their daily to‑do list?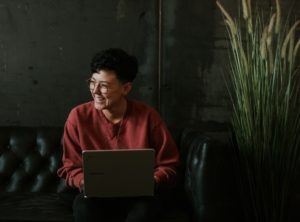 Some entrepreneurs are a force of nature.
They wake up every day at 4am, execute a strict morning ritual, slam down a coffee for breakfast and have done three deals before the rest of us wake up. They thrive on adrenaline and seem to have unlimited reserves of willpower.
If that's you, Day Optimizer is not for you.
Day Optimizer aims to help the less disciplined entrepreneur who:
Focuses too much on urgent tasks and not enough on important tasks
Procrastinates instead of just getting started
Loses track of time going down rabbit holes
Allows distractions to pull them off course
Gets caught up working in the business–forgetting to take time to work on the business
Works too much on the fun tasks & not enough on other important tasks
Aims for some degree of work-life balance
Now, it isn't an app for the completely undisciplined. Instead, it's an app for those who want to enhance and direct their limited daily willpower toward building a better business and living a better life.
"I was at the mercy of email, text and hundreds of other distractions to the extent that I could go a whole day with out making any progress on my goals.
Day Optimizer helps me set my intention and commit to what I want to accomplish. Integration with Google Calendar was essential and helps separate external commitments to the ones with myself."
Start accomplishing more.
Day Optimizer helps you achieve more in your day by giving you tools to prioritize, focus and manage your time more effectively.
Prioritize
Decide what to focus on based on what you can realistically get done, given your available time. Stop the wishful thinking that you have time for everything.
Focus
Scheduling your tasks can help you get started and stay focused, since you know your time for a task is limited & you've scheduled your other tasks for later.
Manage
A daily schedule helps you see when you've gotten off track. Reschedule your day after interruptions or unexpected tasks to keep focused on your priorities.
"Time is life. It is irreversible and irreplaceable. To waste your time is to waste your life, but to master your time is to master your life and make the most of it."
Focus on the important things.
As entrepreneurs, our days are a blank slate. WE are the boss and we can do anything we want.
Except we don't, do we? Too often we let our calendar drive our day, driven by the needs of other people. Or we give our attention to urgent things, regardless of whether they are important or not.
Even when we manage to work on important tasks, unless they are urgent we rarely dedicate enough time. Without even knowing it, we've spent much of our time on things that aren't important to the long-term survival and growth of our business, and short-changed our most important tasks.
Proper time management requires a plan. Day Optimizer helps you create that plan.
Build Your Schedule Each Day
Use your schedule to manage your day. Check off to-dos as you spend time on them.
When new commitments come up, add them to Unscheduled Commitments to keep track of them until you can schedule them into your day.
Edit your schedule at any time to reschedule as your priorities shift throughout the day.
In Day Optimizer, tasks flow naturally from day to day.
Get the satisfaction of checking off a to-do, while keeping it in your task flow until it's done.

If you work on a task, but don't finish it, click it once to mark it Done Today.
Tasks marked Done Today reappear in your task flow as a potential to-do tomorrow.

If you finish a task completely, click it again to mark it Done Forever.
Tasks marked Done Forever disappear from your task flow, but remain in your task archive.
Track the performance of your tasks & activities.
See a visual calendar showing each day you committed to do a specific task or activity, and each day you successfully worked on it.
Use activities to track your habits—or to block out time to work on specific projects or aspects of your business.
Activities are for regular blocks of time that you don't track on your calendar or task list, such as meals, breaks, habits & transit time.
Use activities to help account for everything that takes up time in your day, so you can plan your time effectively.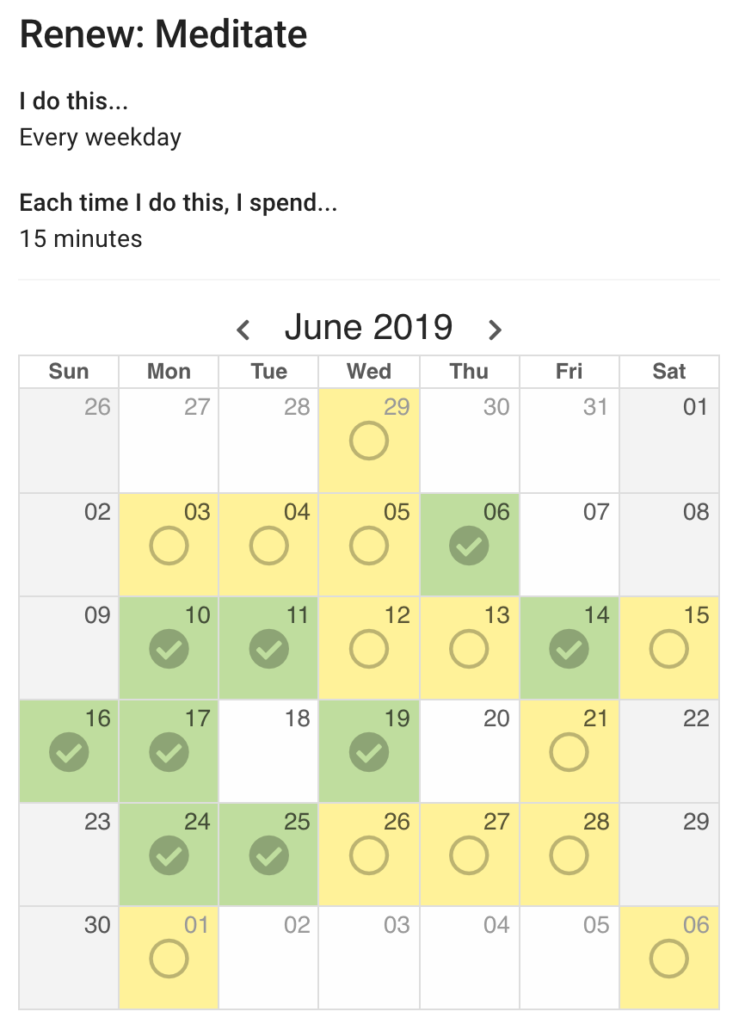 Use on Your Computer or Phone
Day Optimizer can be used on your computer or installed as a web app on your phone, allow you to create your schedule in the morning using a big screen, but reference it throughout the day while you're on the go. Works with iPhone, Android and Windows smartphones.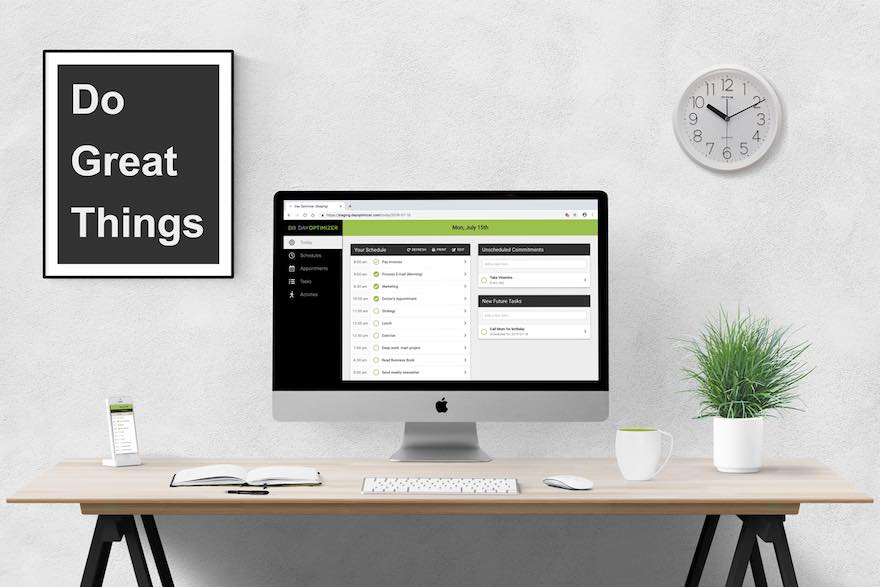 Stop being a time optimist.
Do you wake up every day thinking you can get 10 times more done than you actually can?
You make lists. You set priorities. But it doesn't help.
You spend too much time on a single activity, or you distract yourself with well-defined medium priority tasks to make you feel like you're making progress—deferring until later those fuzzy high priority tasks.
Once you've lost your momentum, the mounting list of tasks saps your motivation. It's hard to stay focused when you know how much other stuff you should be doing.
You get trapped in a vicious cycle. The more you try to do, the less you usually get done–which just keeps the cycle going.
You became an entrepreneur to be your own boss and design the life of your choosing.
Day Optimizer leverages psychology to help you execute on your vision:
Daily commitments help you narrow down your todo list to maintain focus
A 3-step planning process leverages how your brain works to create an effective schedule
Tasks marked Done Today give a rush of accomplishment, but stay in your task flow for tomorrow
A performance calendar helps you see how effective you've been for each habit, task and activity
After using Day Optimizer for a week, you'll prioritize better, procrastinate less and do more of what's important in your work and life.
Your time is valuable. Make the investment to use it wisely.
Schedule your to-dos at specific times.
What gets scheduled, gets done.
When you commit to do something at a specific time, you create an "implementation intention". Scientific research shows that setting implementation intentions makes you far more likely to accomplish your goals.
By committing to a daily schedule of all of your to-dos, you are setting implementation intentions for each to-do, helping you stay more focused and accomplishing more.
"I love Day Optimizer. It is the gift I didn't know I needed.
All my life, I have been a huge procrastinator. I get lost in my list of tasks with no solid sense of how much time things take to be completed.
Enter Day Optimizer. Not only am I able to map out every aspect of my day, Day Optimizer helps me understand how much time my tasks take. I am able to plan my days accurately.
Most important, Day Optimizer guides me from task-building to commitment to completion unlike any other scheduling system out there."
Leverage how your brain works.
Part of learning how to manage your time more effectively is learning how to hack your brain.
Most task and time management tools out there are designed around what makes sense for a computer: long lists of items that you tag, drag into folders or otherwise "manage". While some of that is necessary, it's usually not how your brain works.
Day Optimizer uses a workflow-based approach that makes you more effective by leveraging how your brain operates.
Reduce context-switching
To create a daily schedule, you need to decide which tasks to do (commit), figure out how long you want to spend on them (allocate) and then assign them into a time slot in your day (schedule). But committing, allocating and scheduling all require different ways of thinking and dedicated working memory.
Multi-tasking kills productivity–but so does switching contexts constantly within the same task.
Follow a process
Day Optimizer works with your brain, not against it, by guiding you through a process that helps you create a schedule–a set of implementation intentions–while minimizing context-switching and maximizing your working memory.
Review all of your potential to-dos for today and commit to what you plan to work on. The rest will be hidden to help keep you focused.
Decide how much time you want to spend on each to-do today. This isn't the time required to finish each, just how long you plan to spend on each today.
Assign each to-do a time slot in your day. When you run out of time slots, rearrange to ensure you're doing your high priority to-dos and defer lower priority to-dos until tomorrow.
The result is a schedule with better time estimations and priorities, so you not only get more done, but more important items done.
"All we have to decide is what to do with the time that is given us."
Collect all your to-dos in one place.
Appointments
that you need to attend
are kept in your calendar
Tasks
that you need to accomplish
are kept in your task manager
Activities
that you do every day
are kept in your head
If you're like most people, your calendar drives your day. You keep a list of the tasks you need to get done, but it's too long, and you're left guessing how long everything is going to take.
It's a hassle to keep writing down your daily activities, so you keep those in your head. The consequence is that by noon you've underestimated how much time you have left for the day, so you skip lunch to try to catch up. Yet you still forget to go to the gym.
You need a tool that helps you plan your day, taking into account everything you need to do.
Gain control of your time.
Day Optimizer (DO) uses new concepts to help you manage your time better:
To-Dos
To-dos are anything that takes up time in your day–appointments, tasks and daily activities. Focusing on time, not tasks, allows you to account for things like exercise and meals in your day.

Activities
Activities represent things that take up time in your day that are never done: exercise, meals, meditation. They can also be used for time-blocking to allocate time to a category of tasks, where the specific tasks themselves are tracked somewhere else.

Commitments
A commitment is your decision to work on a to-do today. Committing to to-dos makes you more likely to start them and stay focused, helping you get more done. DO tracks on which days you commit to to-dos, which days you work on them, and, for tasks, which days you complete them.

Time Allocation vs Estimation
Estimation is figuring out how long a task will take to complete–which is almost impossible to do with accuracy for any complex task. Allocation is assigning blocks of time to work on a task to keep moving it forward. DO uses time allocation, not estimation, to help you balance your priorities.

Done Today vs Done Forever
DO introduces the concept of a task flow, where tasks flow from day-to-day until you finish them. Mark a task Done Today to indicate you worked on it today, but didn't finish it; it will roll over to tomorrow. Once the task is complete, mark it Done Forever to remove it from your task flow.
These concepts work with your psychology to help you reduce procrastination, improve focus and keep all of your projects and tasks moving forward. Try Day Optimizer today to put these concepts to work for you.
Use time blocking to manage your day.
Don't make the mistake of trying to schedule down to the minute.
Time blocking is the process of setting aside blocks of time in your day to work on specific types of tasks. When that time comes around, you get to choose specifically what you need to be working on.
Time blocking helps overcome one of the biggest issues with managing your tasks: multiple tracking systems. You might keep your personal to-dos in Todoist, your work to-dos in Asana and use Trello for yet another project. Not to mention your inbox!
Each of these lists are relevant to a specific context: House Chores, Product Development, Accounting. Yes, eventually Day Optimizer will import from all of these. But even when it does, importing, organizing, prioritizing, estimating and scheduling all these tasks is overkill.
Yes, you need to be aware of your most important tasks for the day, and you should definitely schedule those. But for more routine work, or to balance your time across multiple projects or domains, it's helpful to use time blocks.
A time block is a special type of activity that acts as a placeholder for a list of tasks you manage elsewhere. Examples of time blocks might be Do Marketing, Send Invoices, Process E-mail or even Relax.
Day Optimizer makes it easy to set up time blocks that you can include in your schedule as you plan out your day.
Get time management tips & announcements.
Not ready to try Day Optimizer yet? Subscribe below to receive updates about the product or tips about time management.